News

GBC sponsor of the Quack!Quack! project
Posted: October 21, 2014
GBC is a sponsor of the Quack!Quack! project that will bring fiberglass ducks decorated by local artists to locations around town. For more information or to participate, please visit the QuackQuack website.

GBC holds a fundraiser with
"Jazz'n The Park"
Posted: July 29, 2013
The Greenville Beautification Committee held a jazz music concert in Vanderbilt Park on August 3rd, 2013 at 6:30pm. The featured band was be the fabulous Michael Benedict Jazz Quintet! Tickets were $25, with all proceeds going towards the Greenville Beautification Project.

GBC holds successful fundraiser with "Jazz on the Banks of Lake Barbara"
Posted: August 28, 2010
The Greenville Beautification Committee held a successful fundraiser in the form of a jazz concert at the property of Barbara Walter on Route 32 in Greenville. Families and residents of the local area (and some from as far away as New York City) joined together for a festive evening of music, food, wine & beer and desserts.


The Jazz on the Banks fundraiser kicks off the Greenville Main Street and Parks Initiative, a beautification effort in Greenville to bring new light poles, benches, planters and banners to the Route 32/81 intersection, Veteran's Park and Vanderbilt Park. Examples of the pole and bench were on hand for fundraiser attendees to look at. Read about the Mainstreet Initiative and see photos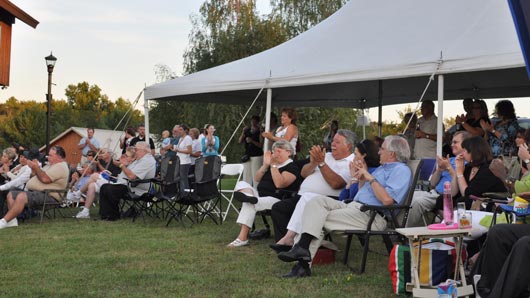 Many Thanks!!!
The GBC wishes to thank the underwriters for this event (Central Hudson, Big Top Tent Rentals, National Bank of Coxsackie) and local area sponsors who donated to the event (Bank of Greene County, The Freehold Pub, Gennaro's Bakery, Stewart's Shops, Rite Aid, GNH Lumber and Price Chopper). Without your support this event could not have been possible.









Greenville Main Street and Parks Initiative Announcement
Posted: July 1, 2010
As you may have heard, new decorative street lighting is coming to Greenville! Last winter the Greenville Beautification Committee, the Town of Greenville, and the Greene County IDA agreed to fund lamp poles for installation in front of our town hall. Town Supervisor Paul Macko and County Legislator Kevin Lewis also pledged to purchase poles on behalf of their families.
Each decorative pole includes arms for banners and flower baskets.
These new light poles are part of a broad initiative to enhance the streets and public spaces of our hamlet. The Committee is also creating a program to add benches, planters and banner signs, along with other lighting enhancements to the intersection of Routes 32 and 81. All items are chosen with visual impact and durability in mind.
The Greenville Beautification Committee asks for your support of this important initiative for Greenville's prosperity. A newsletter will be mailed shortly in the coming weeks with details and a call for donations.
Read about the Mainstreet Initiative and see photos